Artist's Statement
Conceptual photography is, first and foremost, about the concept of the photo. A conceptual
photographer is trying to bring some message to the viewer, be it
a political advert or a social commentary or an emotional outcry. There
is some level of abstraction, thus, in my works: the image is not an explicit example of the concept, but a general expression of the idea.
Conceptual photography makes healthy use of graphical symbols to represent
ideas, movements, moods, anything and everything that the photographer might want to include in the message of their photograph.
For my works, there are a variety of ways a concept falls into place, most
often it starts with a spark of inspiration and grows from there, whether it is a person, design, story that needs to be told, regardless, it all starts with a single point. From there it becomes simple problem solving. I don't spend very much time looking at what other people are doing. I like to stay aware and connected to what others are doing by following sites such as Flickr.. but beyond that, I spend the rest of my time meeting
people, creating, and really just living life. I think the best way to being
inspired is not to just try to emulate others, but to find what inspires you in life and trying to capture and share it.
I use Photoshop and Lightroom. I use Lightroom to correct
and change the colorimetry pictures. Then I go on to the most important Photoshop retouching. To learn how to master these tools, I spent hours in front of my computer to study the tutorials available on the Internet.
© Copyright 2016 Achraf Baznani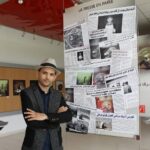 Achraf Baznani, a Moroccan self-taught artist photographer, inserts himself into his own imaginative, dream-like worlds to create fascinating art. He loves surrealism as a means to disconnect from reality. His works are featured in various magazines worldwide. Baznani's photography has received worldwide acclaim for a remarkably diverse array of work. He has been awarded the International Colosseo Award in Italy and the Kunst Heute Award in Germany. Achraf's work has been exhibited in Germany, USA, France, Morocco, Hungry, Ivory Coast and Portugal.