The following photographs are selections from Thomas Pickarski's larger body of work, The End of Nowhere, Stories and Photographs.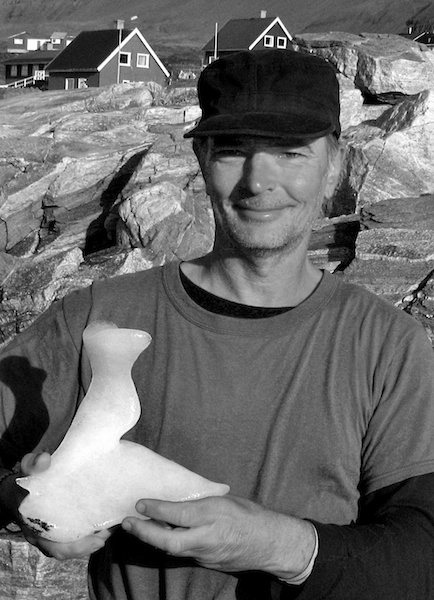 Artist's Statement
I've always been intrigued by the process of consciously transcending reality through exploring, and then shifting, one's perception. Several years ago I set out on a series of international travel adventures to confront psychological fear and limitation. Having lived in the scorching deserts of Arizona for many years, I was intensely drawn to the opposing arctic deserts of places like Iceland, Greenland, and Patagonia. I traveled twice a year for month-long adventures on a bicycle, days away from anyone, and camping in a little tent. I carried a small pocket camera and a notebook, and created this series of short stories and B&W digital photographs. The stories are shaped around the encounters, miracles, and transformations that occurred along the way. The images reflect my love for the unusual shapes, fragile settings, and desolate landscapes I discovered. I continue to return to these places. Each time, the layers of exploration continue to broaden and deepen.
To learn more about Thomas' work, please read his interview.
© Copyright 2016 Thomas Pickarski
I am a multi-media visual and performance artist. The themes I work with include minor obsessions, the bizarre landscape, self realization, and social justice. I hold a BFA in Painting and an MFA in Performance Art (Intermedia), both from Arizona State University. Currently, I am in the finishing stages of work on a photographic and narrative character study of a toy dinosaur and its adventures through a series of environmental installations. I am also creating a series of Iceberg paintings. I live in New York City.